Slip and Fall Attorney in Houston, TX
Experienced Personal Injury Lawyers Fighting for You
When you are on someone else's property, whether you're at a commercial location such as a grocery store or private property, you have the legal right to have safe conditions. If you were injured due to the property owner's negligence, you may be entitled to compensation for your medical bills, lost wages, and pain and suffering. Our slip and fall attorneys at the Ivey Law Firm are dedicated to advocating for your rights and securing the damages you deserve.
Understanding Premises Liability in Texas
In Texas, property owners are responsible for ensuring the safety of their property. The rules surrounding this responsibility are referred to as premises liability and outline the measures property owners must take to protect visitors from harm. In order to receive damages on a premises liability claim, the plaintiff must establish the following:
Legal duty: The property owner owed a legal duty to the injured person to provide a safe place or warn them of possible dangers.
Breach of legal duty: The property owner was negligent and either failed to maintain the property or warn the injured person of possible harm.
Injuries resulting from the breach: The injured person was hurt due to the property owner's negligence.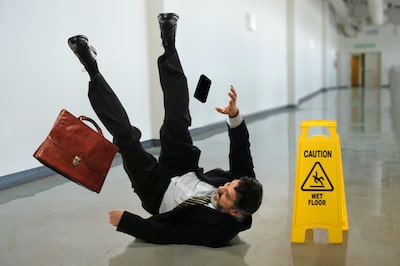 The legal duty owed to a person on the property is dependent on how the plaintiff is classified at the time of the injury. There are three classifications the plaintiff may fall into:
Invitees
An individual who is on the property with the knowledge, permission, and mutual benefit of both parties is an invitee, such as a customer of a business, a student at a school, or a person reading the electric meter. The invitee receives the highest duty of care, in that the owner is required to make safe any dangerous conditions or provide proper warning of conditions the owner knows about or would have known about with a reasonable inspection.
Licensees
Licensees are people who are permitted on the property by the owner and are there for their own benefits, such as a visit from a friend or relative or a door-to-door salesperson. The owner has a duty to make safe or warn the licensee of any unsafe conditions the owner knows about but the licensee does not.
Trespassers
Trespassers have the lowest duty of care as they have entered the property without legal authority or permission from the owner. However, a trespasser can't be injured willfully, wantonly, or through gross negligence.
Types of Premises Liability Injuries
Any injury that occurs due to poor maintenance or unsafe conditions that weren't repaired or properly warned of could result in a premises liability injury.
Commercial Property
Slip and falls and other types of premises liability injuries most commonly occur on commercial property and include:
Slipping on wet floors at entrances or in restrooms
Merchandise in the aisles, creating trip hazards
Slipping on ice on untreated sidewalks
Tripping on cracked tiles or ripped carpeting
Missing or broken handrails on stairs
Injuries from assaults or attacks due to inadequate security
A lack of a "wet floor" sign or failing to repair poor maintenance may not seem serious, but these often lead to severe injuries, including broken bones, concussions, and spinal cord damage.
Residential Property
Homeowners are also required to provide safe premises for guests, including warning them of dangers.
Swimming pool accidents
Animal bites or attacks
Tripping on broken concrete
Falling on a hole
Property owners, especially homeowners must be aware of the law of attractive nuisance. This specifically protects children and states that a property owner can be held liable if a child is injured even when they are trespassing if the property has something that is likely to attract children. For example, swimming pools or a tractor being out may be considered an attractive nuisance, and if an injury results, the property owners can be held liable. Putting up barriers is an effective way to prevent this.
Working with a Slip and Fall Attorney in Houston
If you were injured due to a property owner's negligence, you need someone on your side to advocate on your behalf and navigate the challenging legal system. Often, insurance companies will offer minimal settlements or even turn the case around to make the victim appear to be at fault. However, the slip and fall attorneys at Ivey Law Firm, P.C. will investigate the case and work with medical experts in order to get you a fair settlement or take the case to a jury. We're with you every step of the way, advocating on your behalf and striving to safeguard your future after your injury.
Schedule a Free Consultation with a Slip and Fall Lawyer in Houston Today
If you were injured because a property owner failed to maintain safe premises, we will fight on your behalf to secure fair compensation for your medical expenses, ongoing rehabilitation, loss of income, and pain and suffering. Contact our experienced slip and fall attorneys at Ivey Law Firm, P.C. today at 888-335-0015 or fill out the form below to schedule a free case consultation.
Contact Our Experienced Slip & Fall Accident Attorneys in Houston